Calling all foodies, we are also open for you over the Christmas holidays and New Year.
When the simple ...
meets something special, culinary great moments are on the agenda. We have been working as visionaries under the shining stars of good taste since 1992. Classic tradition, innovative daring & inspired by the idea of breaking conventions, always breaking new ground in order to brilliantly combine perfection with passion. With seductive fragrances, delicate colors & strong aromas, we offer you an extraordinary culinary experience in a unique perfection.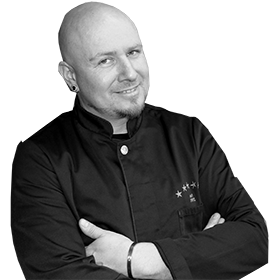 All countries on earth have their very own recipes, which are often passed on from generation to generation. We draw from this fund of culinary treasures in order to always discover something new. We immerse ourselves completely in the country kitchens in order to combine their characteristics with each other in a new way, and thereby develop the ability to absorb, integrate and respect new influences from other food cultures.
Michael Dietzsch is a master of his subject. With great sensitivity and an understanding of the nuances of the flavors, he combines the high school of creative cuisine with craftsmanship.
Very, very tasty food, friendly and courteous service. Recommendable. I really enjoy being here, unfortunately far too seldom because of the great distance.
A varied menu and extremely good cuisine. In addition, an attentive and brisk service. We would love to come back and can fully recommend it to everyone!
Delicious swordfish and mussels eaten in white wine sauce. It is essential to reserve in advance otherwise you may not get a seat. thanks
We want to seduce you ...
with fresh ingredients & imaginative creations to try, experience and, above all, enjoy the Mediterranean culinary art. We cordially invite you to our Marsalla restaurant. The unmistakable ambience of the centuries-old red clinker building, the best recipes from the regional kitchens and the magic of unique spices and oils will take you away from everyday life for moments!
We also recommend the perfect companion for your menu. You will find many fine wines, tailored to the specialties, in our range. Our friendly service team, who perfectly presents the delicacies from the kitchen and cellar, will make your visit an extraordinary experience.
When the weather is nice, our terrace also offers plenty of space to spend a mild summer evening in a pleasant atmosphere. If we have piqued your interest, we would be delighted if you came to visit us.

Reservation:
+49 (0) 37468 81 480